In order to select the right manual wheelchair, that doesn't cause secondary injuries, we first need to understand the user's mobility range. From here we can choose the most suitable wheelchair for the user and customize it with bespoke features.
First, we will start by answering a few questions about the user:
When the user is walking on uneven road, do they need a mobility aid?
When the potential user is walking on an uneven surface do they use crutches, umbrellas, or other walking aids to help stabilize themselves when walking? If the user feels that these walking aids are enough then they don't necessarily need a wheelchair. However, in some circumstances, caregivers use wheelchairs to prevent children or seniors with cognitive impairment from getting lost outside. They may wander around and get lost easily when they're out of the sight of the caregiver.
Do they need to hold on fixed objects in order to feel stable?
For example, when they walk to the living room from the kitchen, in order to feel secure, do they need to hold on to something along the way? If the answer is 'yes' then they need a simple aluminum wheelchair. Whether it is because of an injury caused by an accident or for an elderly person, we recommend borrowing or renting one of these wheelchairs for short term use. If it is going to be used long term then they can use a lightweight and ergonomic wheelchair.
If the caregiver is also elderly then we recommend a wheelchair design that can brake whilst standing so that the caregiver doesn't have to bend over to activate the brake. The ultra-lightweight wheelchair is also convenient (weighing under 10kg) for travel and medical treatments allowing the caregiver to easily carry and store it away.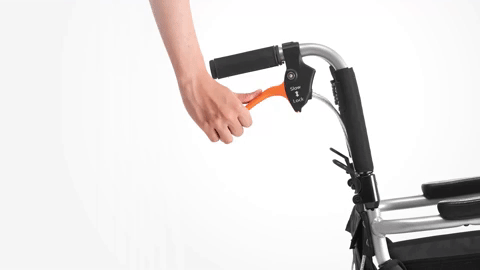 If the user needs to use a manual wheelchair for more than 30 minutes per day, then it is recommended that they choose a more ergonomically designed wheelchair, such as the S-shaped curved seat cushion that relieves pressure on the hips, and is equipped with ergonomic arm pads that curve inward according to the user's arms and elbows. The ergonomic armrests also make the wheelchair more spacious and comfortable. These special features mean sitting for long periods of time are more comfortable and less tiring.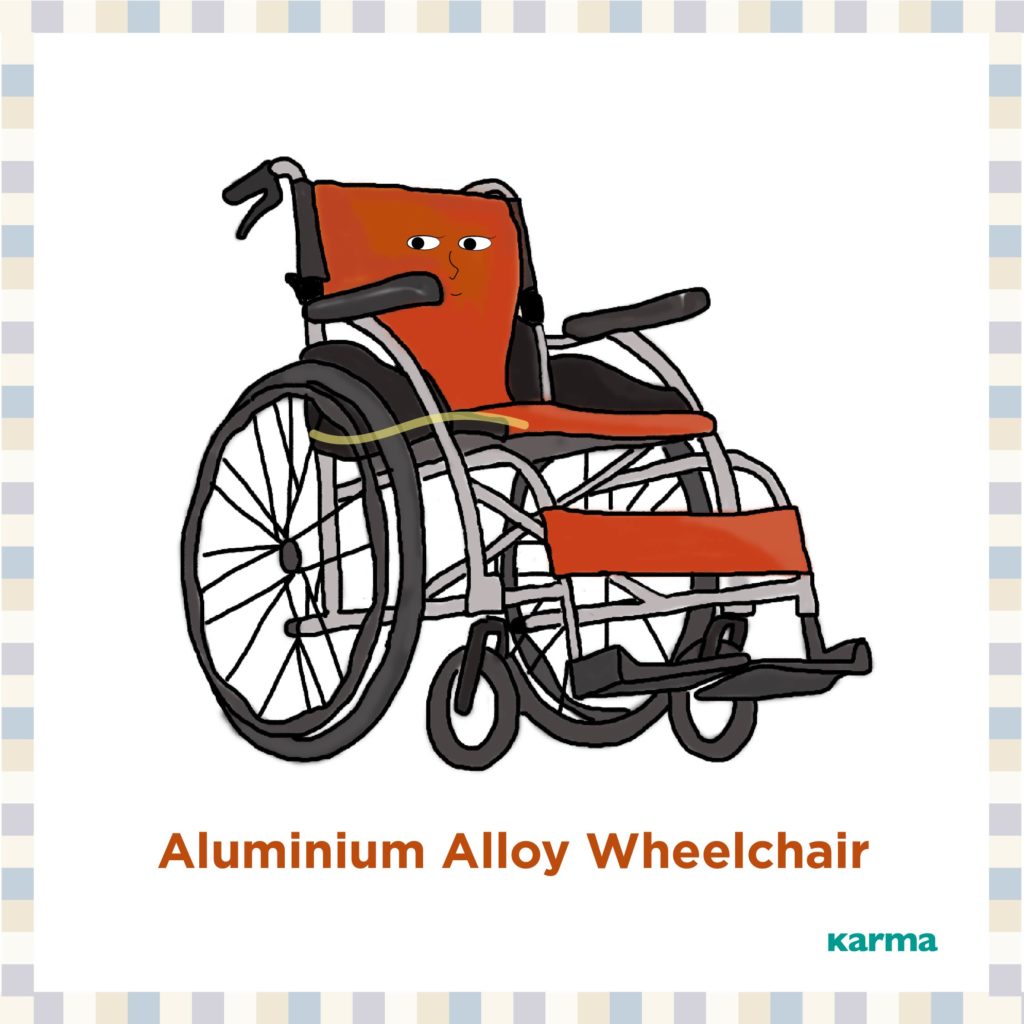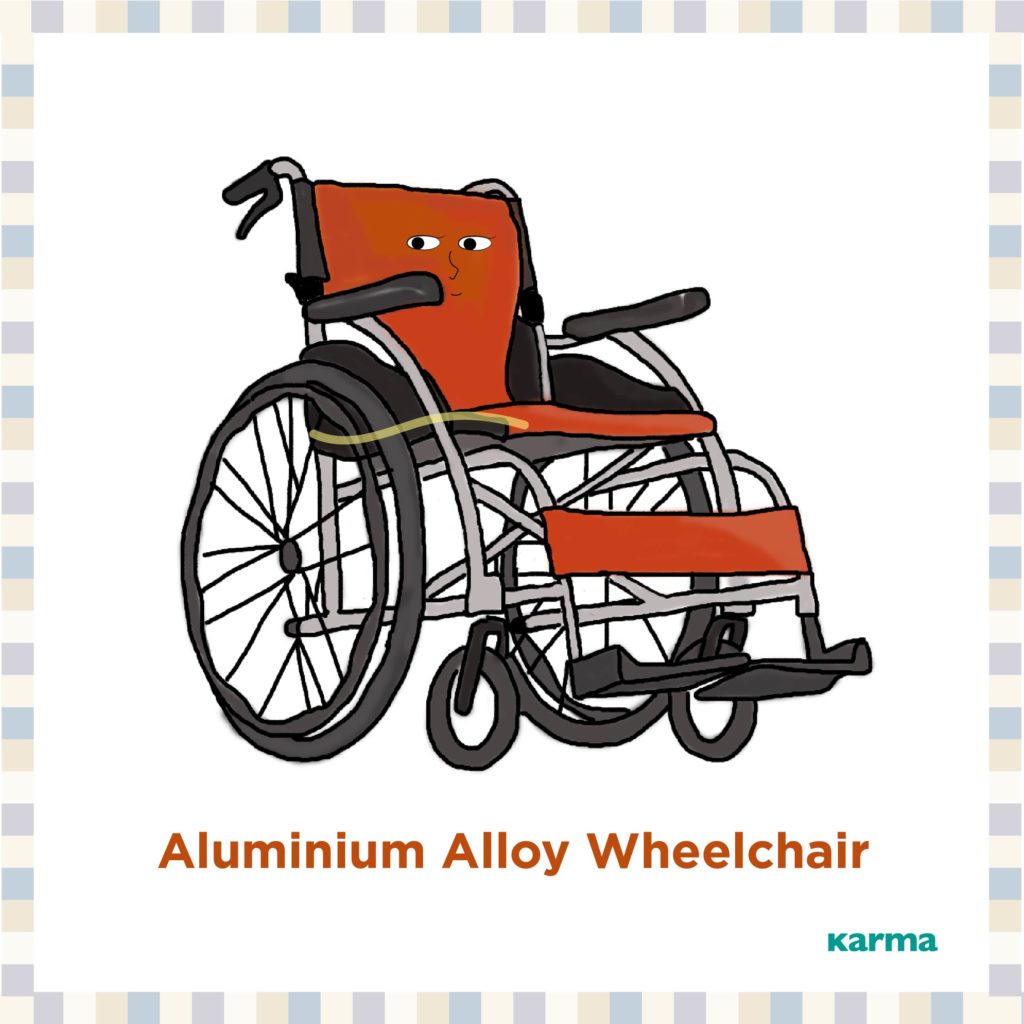 If they can't walk, can they sit up comfortably?
If the answer is 'yes' then the wheelchair purchaser should ask "how will they get in and out of their wheelchair?" For example, how will they get in and out of bed? How will they enter and exit the bathroom? Get in and out of the driver's seat? Etc. Whether they will be moving around independently or relying on the help of others, the armrests and footrests on an ordinary aluminum wheelchair will just get in the way. Therefore, they need a wheelchair that is easy to transfer.
The Transfer Wheelchair offers two key functions: detachable and flip back armrests and detachable footrests that can rotate inwards as well as outwards. This makes getting in and out of the wheelchair easier as the user doesn't need to stand up, simply "sit and shift". In addition, the inward rotating footrest reduces storage space!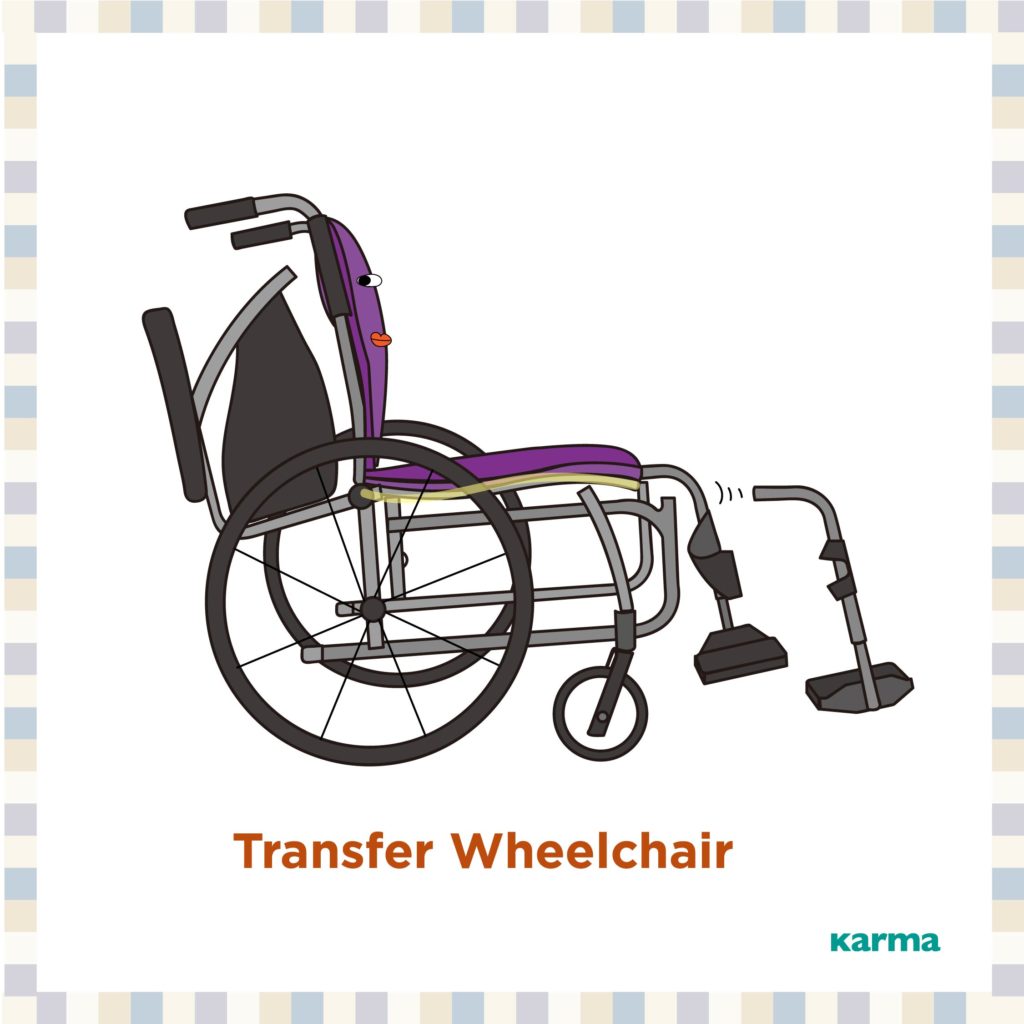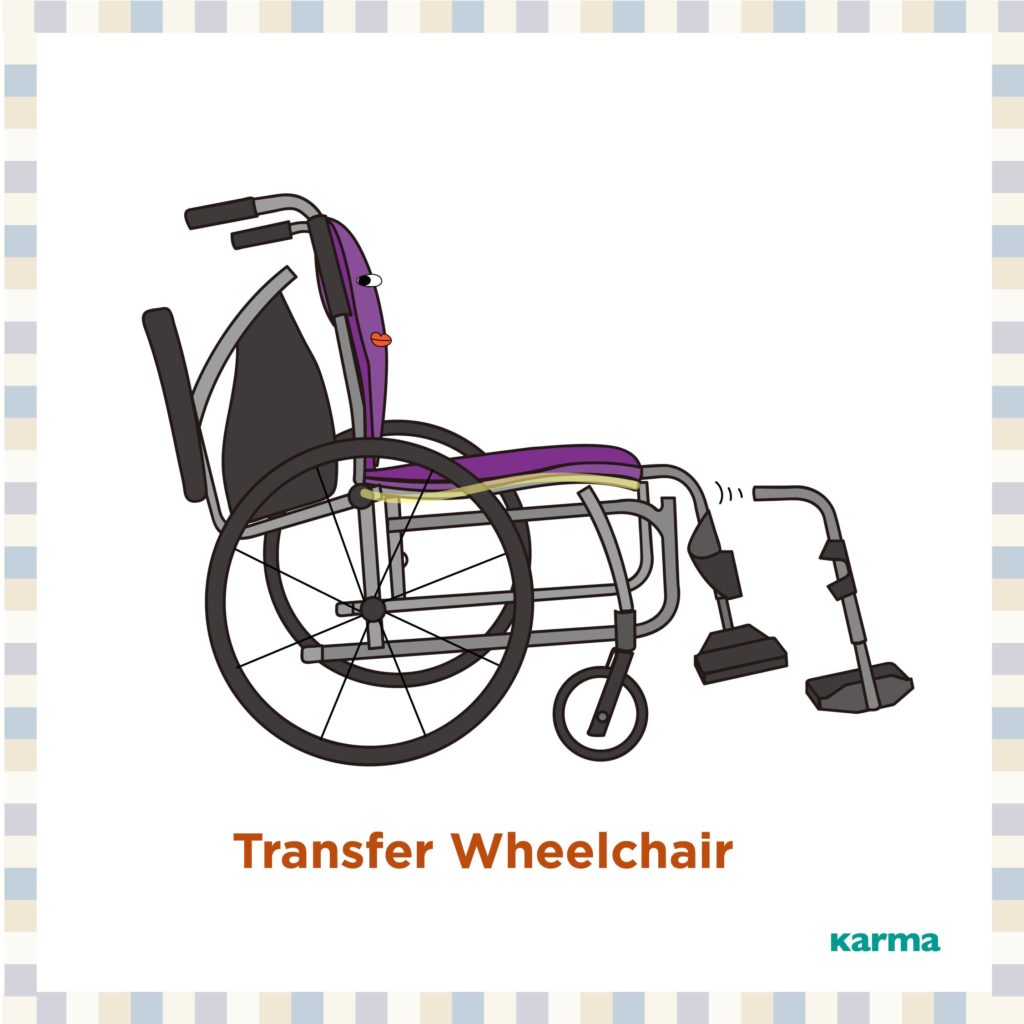 There are many styles of manual wheelchairs on the Thailand market with detachable features. S-Ergo 125 is a great option if there is a smaller budget. In addition to the detachable arm and footrests, the S-shaped curved seat cushion evenly distributes pressure from the hips, prevents the user from sliding forward, and stabilizes the sitting posture. If the budget is relatively low,  Agile is a good wheelchair to consider.
Although some users are unable to walk, their upper body functions are normal. These groups are able to control and propel a wheelchair and therefore need to pick a manual wheelchair that allows for high activity. This kind of wheelchair is super lightweight, has a strong structure and performs better than a general wheelchair.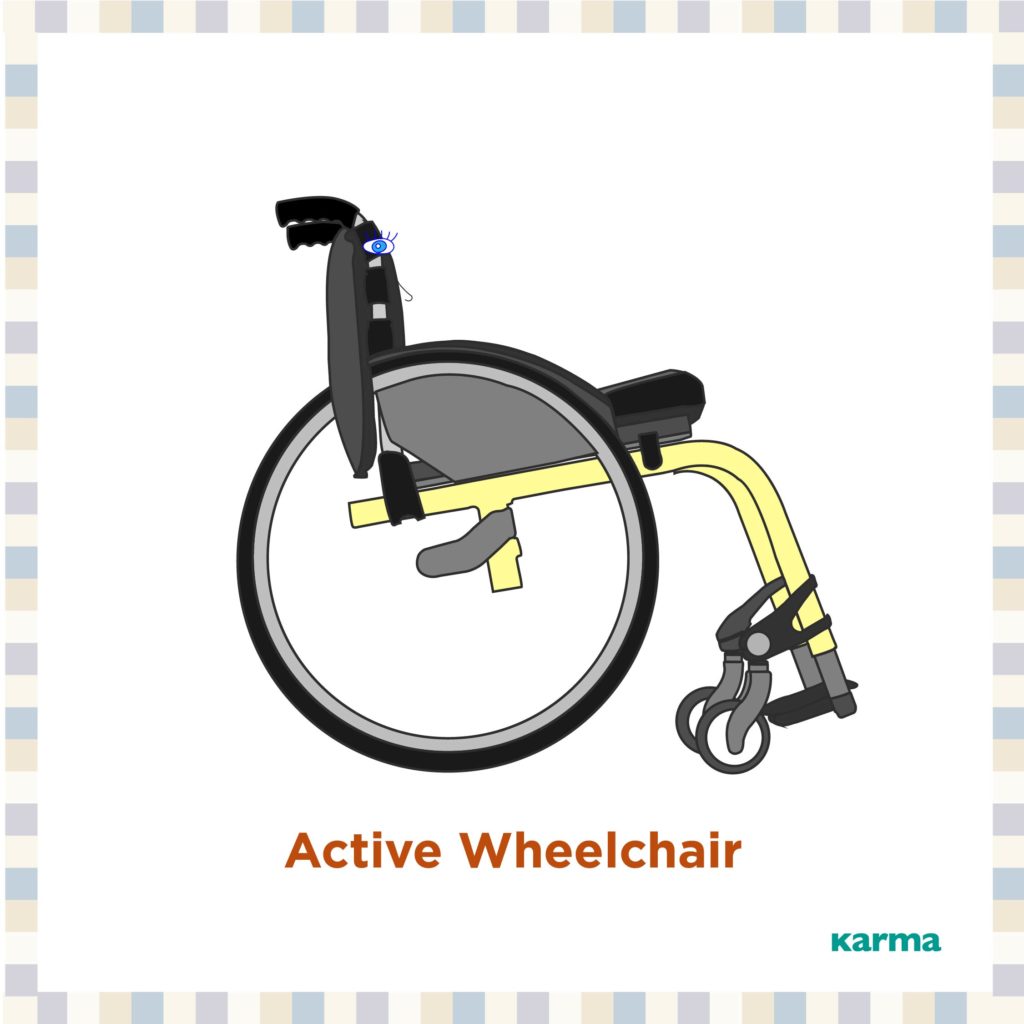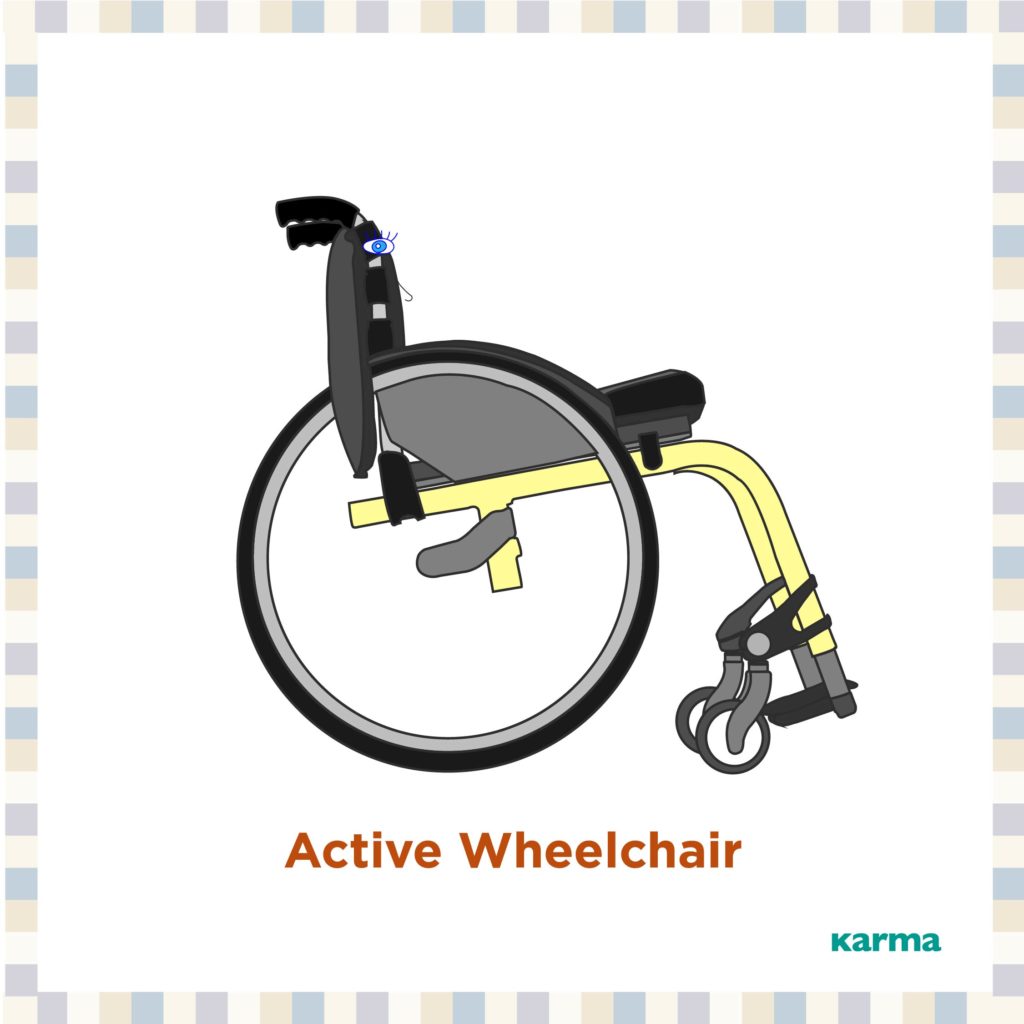 When sitting in a chair, do they need extra support?
If a family member or a friend cannot sit up independently, they will need a positioning wheelchair. The backrest of a regular wheelchair only reaches the underarm or shoulder, whilst the positioning wheelchair has an extra headrest that will support the upper body and head. Imagine a massage chair but with wheels! This type of manual wheelchair has two main postures/movements; tilting and reclining.
Firstly, we will talk about the "Tilt-in-Space" feature. This movement allows the user to tilt backward,  changing the orientation of the user in a wheelchair, but keeping the hip angles the same. This position will shift the pressure away from the hips onto a larger surface area. This means that the caregiver does not need to constantly readjust the user into the seated position. This also helps reduce the risk of developing bedsores and avoid back pain.
Secondly, is the reclining feature. This allows the user to recline back into the lying down position. This makes it easier for caregivers to perform tasks like changing diapers or giving a sponge bath. To help you understand the difference between reclining and tilting, you can read further here or watch a video.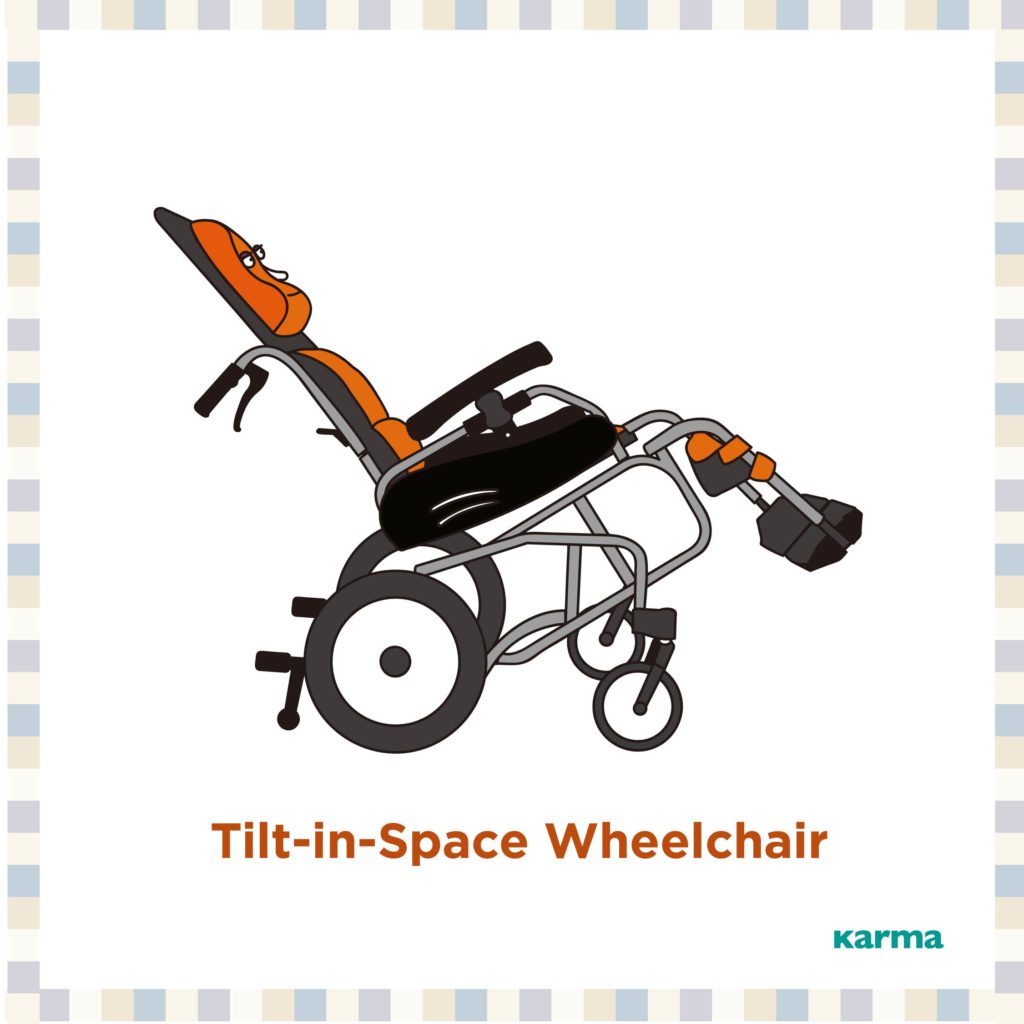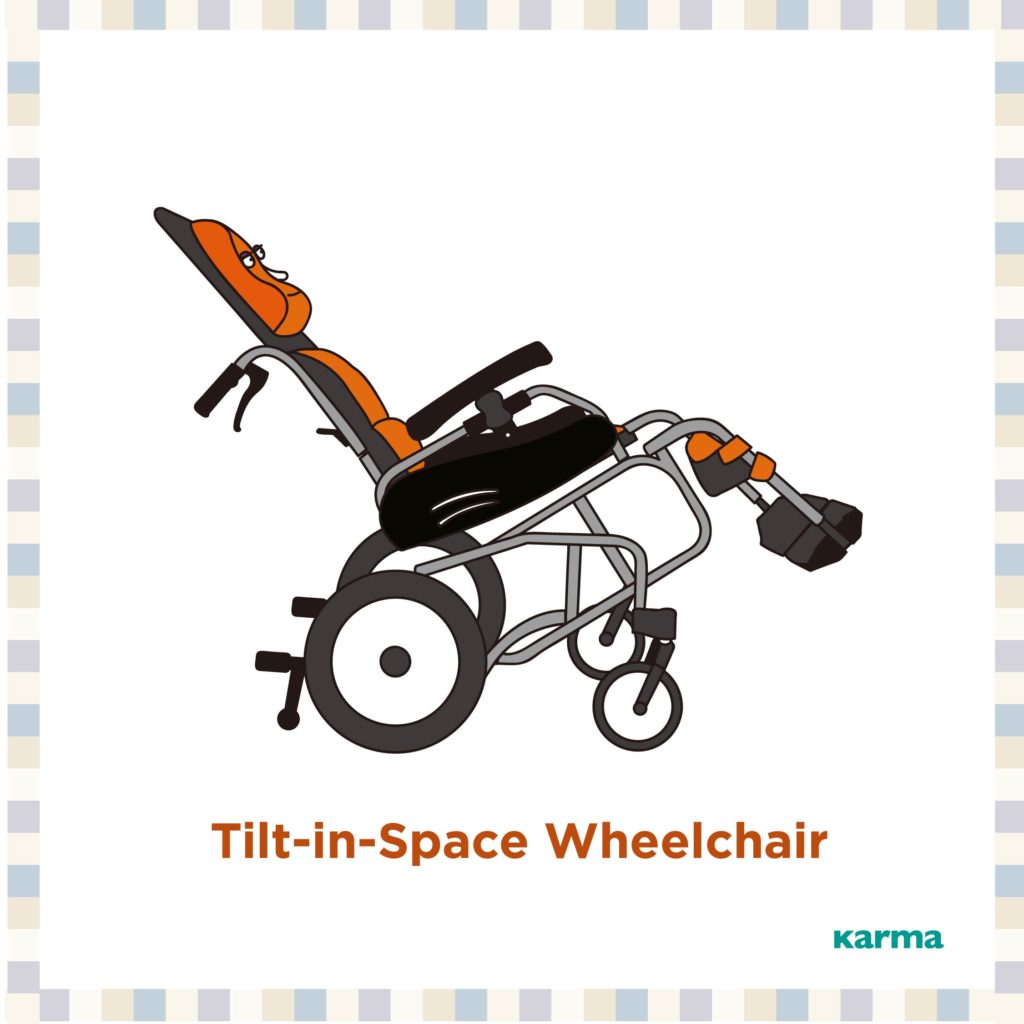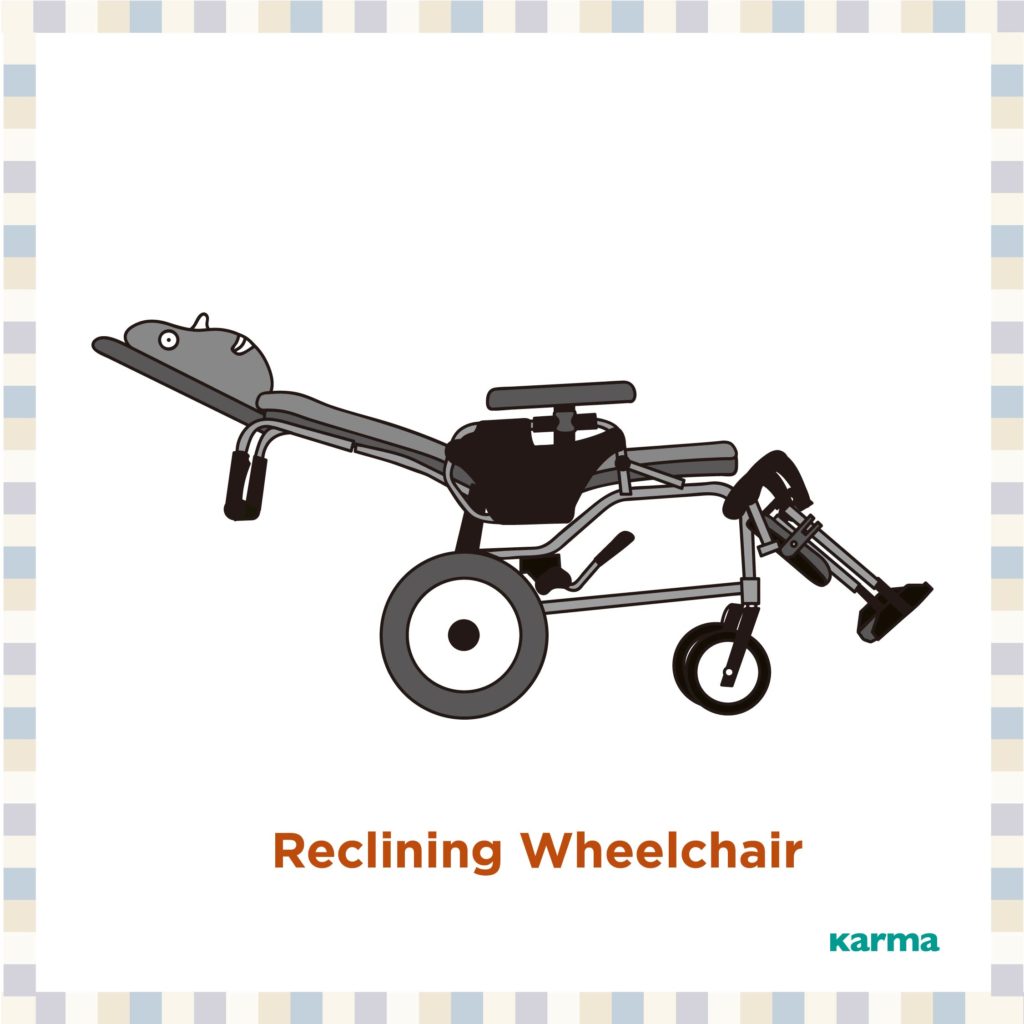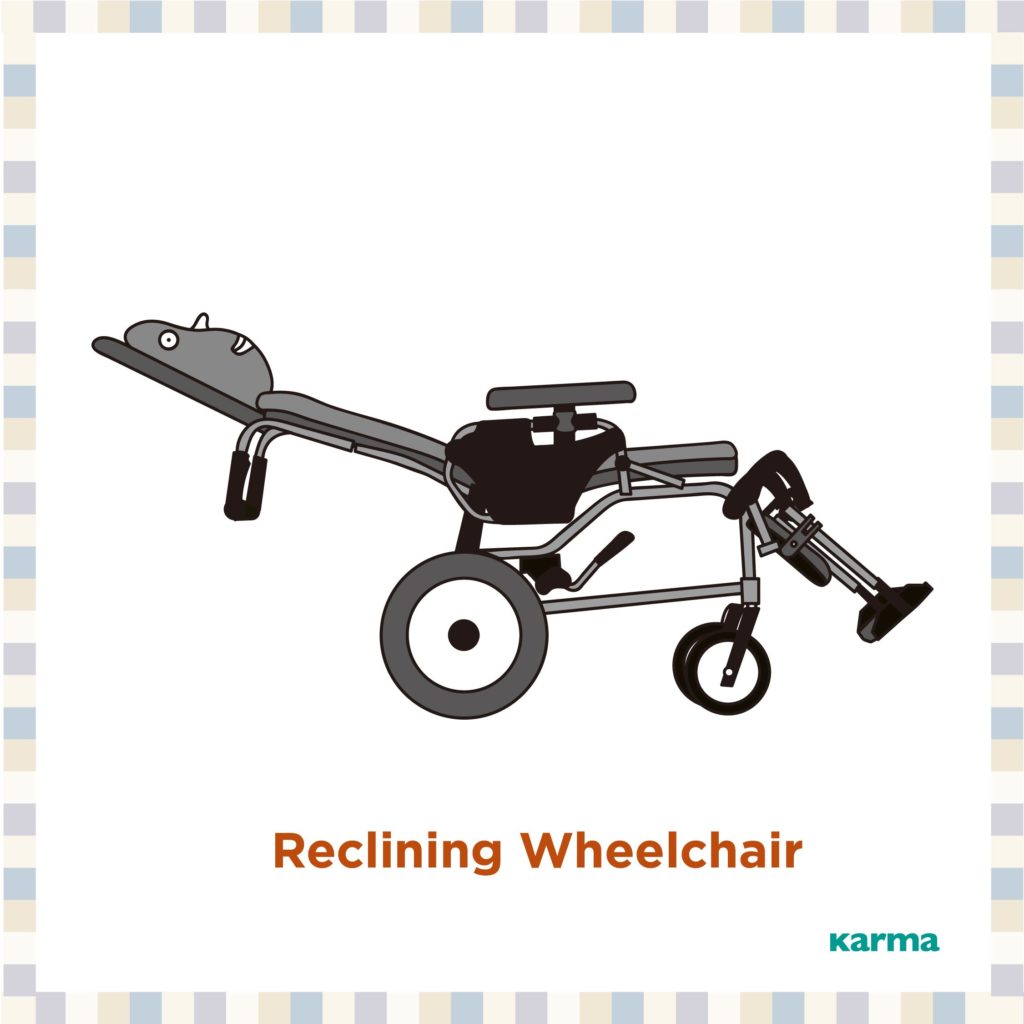 If you have a larger budget, then we recommend the high-back wheelchair with the ability to both Tilt-in-Space as well as recline. These 2 in 1 functions gives the user the benefit of two key features and makes it easier for the caregiver.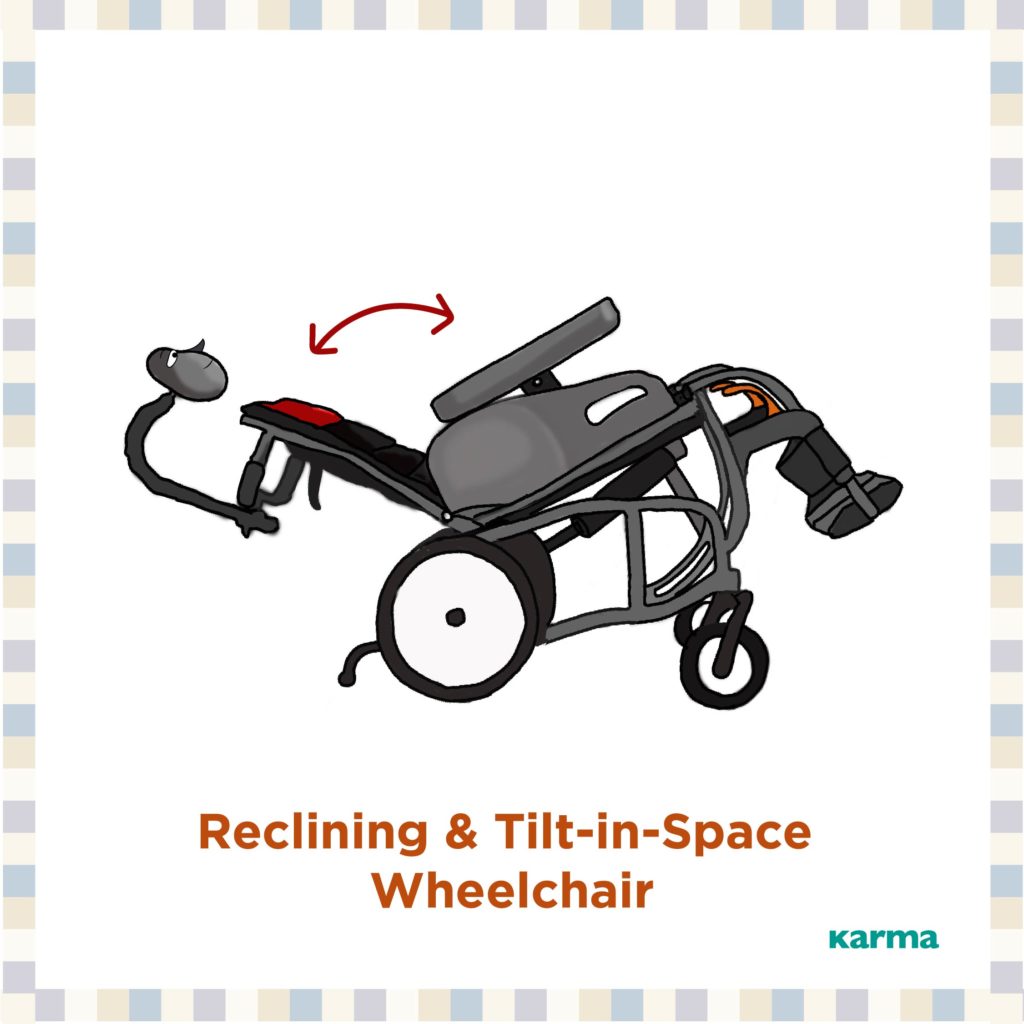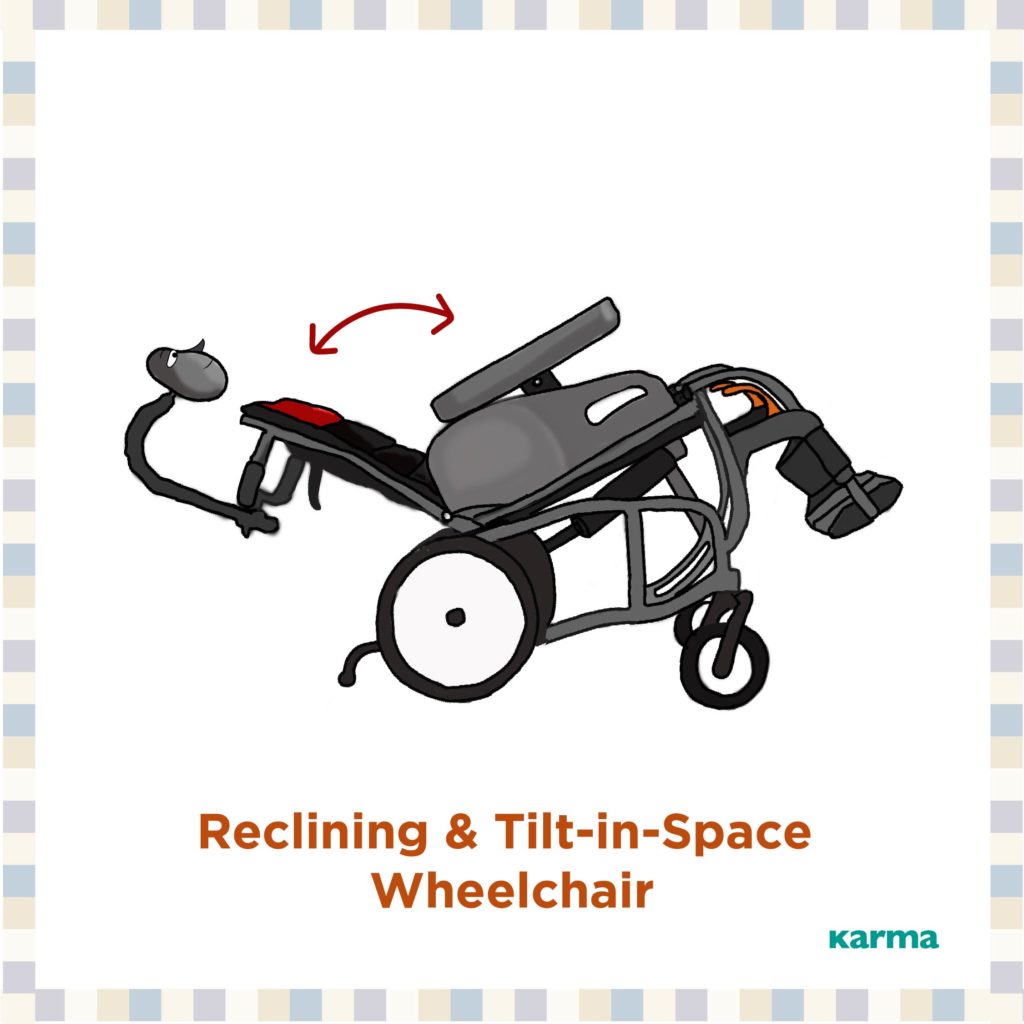 In Summary
There is no best wheelchair, only the most suitable! We have summarized the different manual wheelchairs in one picture for your final overview. We hope that you can find the most suitable wheelchair! Learn more about Karma products on the Karma Thailand website.