When choosing a power wheelchair (electric wheelchair), the three key factors to consider can be broken down into;
Driving range 

Adjustability of chair

Position change function 
Determining how far the user needs to travel, how adjustable the user needs the wheelchair to be, and what kind of positioning changing functions the user needs are all important things to consider to choose the right power wheelchair. This series of blogs will break down each component of the power wheelchair to achieve a better understanding of which option to choose.
Step 1. Select Driving Range
The reason we want to ask "How far does the user need to travel during day-to-day activities?" is directly related to the size of the wheelchair chassis (wheelchair base).
If a user needs to travel up to 25 KM per charge, an outdoor/indoor power wheelchair is the one. Outdoor/indoor wheelchairs have;
larger wheels (up to 14 inches) to climb over obstacles of up to 7.5 KM.
larger base area to make sure driving safety under faster driving speeds.
larger battery compartment offers a larger driving range, but also can make the chassis a bit bulky for indoor driving.
Saber is a prime example of an outdoor/indoor power wheelchair as it has been road-tested for over 1000 KM.
For 20 KM per charge, then an indoor/outdoor wheelchair is recommended. Blazer is a great example of an indoor/outdoor wheelchair because the chassis balances the driving range and small turning radius. Indoor/outdoor wheelchairs typically have;
larger wheels (12-14 inches),
faster driving speeds of up to 8 KM/H,
and can overcome obstacles up to 7.5 CM.
For just 10-15 KM per charge, then an indoor-use chassis is adequate. Indoor wheelchairs typically have;
smaller wheels (10-12 inches),
slower driving speeds,
and can overcome obstacles up to 5 CM.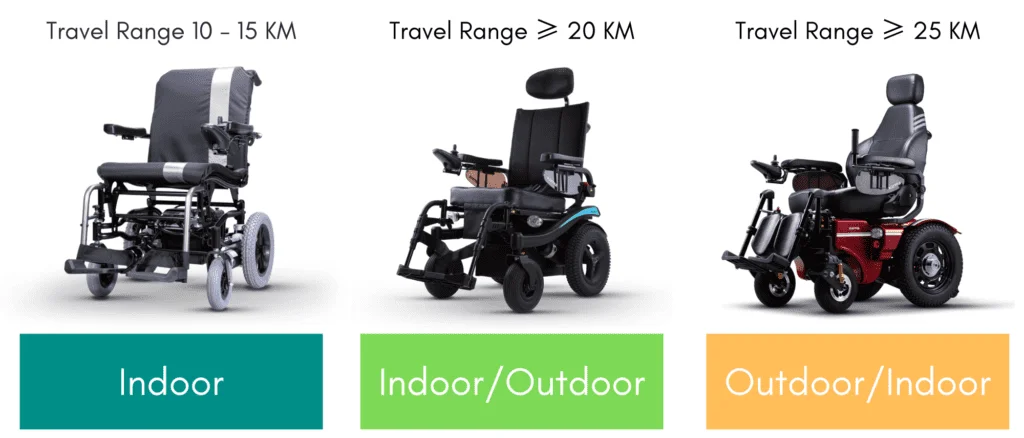 Asking the user how far they need to travel on a daily basis is a good start to understanding what type of power wheelchair they need. Source: Karma Medical
Step 2. Choose the seating system
After choosing a chassis, the user now needs to choose a seat. Depending on the type of support the user needs will determine the type of seat they can choose. To answer this, we can ask the user "What kind of support does the user need from the wheelchair?"
The basic seat support available for Karma power wheelchairs is the Captain Seat. The Captain Seat is comfortable and absorbs shock. The Captain Seat is also available with a manual recline so the user can reposition themselves however they need enough trunk control to return themselves to the upright position.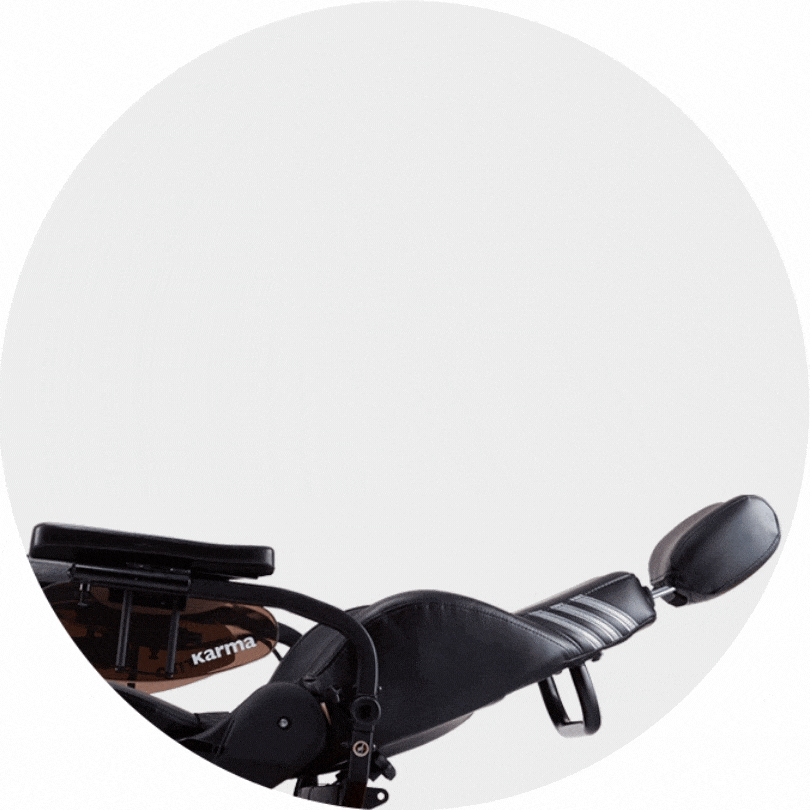 If a user needs a seat with minimal adjustments then the Sling Seat is a good option. The Sling Seat has the option to add off-the-self cushions and backrests. The Sling Seat also has the option to recline or Tilt-in-Space.  These features can help reduce pressure ulcers and reposition the user without the help of a caregiver.
The Rehab Seat is highly configurable and therefore ideal for users who need all the positioning features as well as maximum support. The Rehab Seat can be fit for pediatric users with special needs or progressive diseases.
Step 3. Select power function
The next question to ask about the user is "Does the user need any power seat functions for position change?" Each power function has its advantages which will be further explored in the next blog.

The different types of power functions that can be equipped to Power Wheelchairs. Source: Karma Medical
Summary
Something to keep in mind when choosing a wheelchair seat is that they can be expensive in Thailand. Every country has its own reimbursement system, which may limit the user to which kind of power wheelchair a user can choose. However, knowledge about the user and each power wheelchair, the user will hopefully be able to choose a wheelchair that fits their needs and budget.
Follow us for more updates via
Facebook: Karma Wheelchair Thailand
Line OA: @karmamedicalthai