Parking spaces that have been reserved to people with reduced mobility must meet a list of basic requirements so that they have been completely adapted to people with a physical disability and/or reduced mobility. The main objective of these reserved parking spaces is that they are located close to the place they need to access. Both the location and size of the parking space are of great importance so that access and exiting the motor vehicle can be carried out comfortably. 
Where should the parking spaces for people with disabilities be located?
The reserved parking spaces must be close to the location they intend to access. For example, if it is a hospital car park, then the parking spaces nearest the entrance should be reserved for those with reduced mobility. The intention is to avoid a person with disabilities from walking through a car park, which in certain circumstances, could be dangerous. 
What are the recommended dimensions for an accessible parking space?
There are usually specific regulations that must be met when it comes to the measurements of the parking space. Each country may be different, for example in the USA vs the U.K. In general, the minimum length for an accessible parking space should be 5 meters long and 2.2 meters wide. It should also be mentioned that the area of approach should be an extra 1.5 meters in the lateral and rear areas.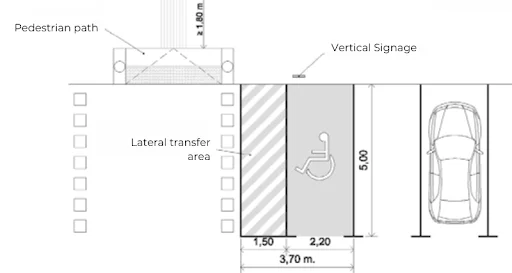 The reason for these standard measurements is so that entry and exit to the motor vehicle can be carried out comfortably. Power and manual wheelchairs can be bulky, so it's important that they have enough room to be maneuvered. Some motor vehicles have been adapted to include a ramp or lift systems to get in and out of the vehicle. It's essential that the accessible parking space have enough room and distance from neighboring vehicles.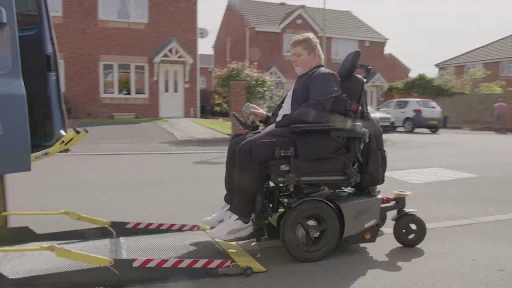 Who can use accessible parking spaces?
In addition to knowing the structure requirements, it's essential to remember the conditions of using the accessible parking spaces. They are reserved for people with disabilities who also hold the appropriate parking permits. In order to use handicapped parking spaces, often they require a parking permit. Each country will have their own list of requirements and process to acquire a permit. These permits are also not limited to wheelchair users, but extend to anyone who has reduced mobility and some diseases.  
KARMA make it possible for freedom and independence
It's important to remember that there should be reserved parking spaces for those with reduced mobility for their safety. Not only this, but having the correct mobility solution is also essential for a wheelchair user's freedom and independence. KARMA Medical has a wide range of products to suit a wide range of mobility users. 
Follow us for updates !
Facebook: Karma Wheelchair Thailand
Line OA: @karmamedicalthai