When it comes to choosing a wheelchair, it's important to find the right one for the user that matches not only their body but also their condition, budget, and lifestyle. These factors are what makes up the Karma FIT. This post covers the 'body' and 'condition' of the user when it comes to choosing the correct type of rear wheel.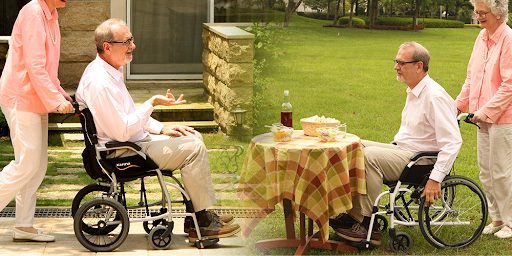 The role of the rear wheel is to offer stability to the wheelchair, and also the ability for the user to self propel. In order to be able to manually self propel, the user must choose the large rear wheels. This offers the user independence as they don't need to rely on another person to get around. Typically, more active wheelchair users will opt for the larger rear wheels. 
If the user has someone, for example a caregiver or family, who is going to push the wheelchair from behind all the time, then a smaller rear wheel is more suitable. Typically, elderly users will opt for a wheelchair with a smaller rear wheels as it makes the wheelchair more lightweight and ideal for day trips. 
+ Advantages of a

LARGE

rear wheels
The user can propel the wheelchair themselves.
Large rear wheels have a larger surface area, so it's easier to navigate rough terrain e.g., grass or uneven road.
The rear wheel can be detached for convenient transportation and storage
— Weaknesses of a LARGE rear wheel
Heavier wheelchair, which means more effort is required to lift it
Requires more storage space
+ Advantages of a

small

rear wheels
Ideal for elderly caregivers because of the lighter weight
Easier to navigate in small spaces; apartment buildings, elevators, etc.
Smaller storage space needed
-Weaknesses of a small rear wheel
The user cannot propel themselves
Small wheels are not suitable for rougher terrain
A good example of a wheelchair that has the option of both small or large rear wheels is the Ergo Lite 2. If the user has someone who is going to push them when they are in the wheelchair, then the smaller rear wheels make for easier lifting and convenient storage. If the user is looking for more independence with the benefit of an ultra lightweight wheelchair, then the larger rear wheels are the ideal choice. Both options are still equipped with a foldable frame for handy portability. 
We're here to help
If after reading this blog you're still not sure which rear wheel wheelchair is the best for you, you can contact KARMA or your nearest wheelchair dealer today! 
Choose the right wheelchair
It's important to choose the right wheelchair to prevent secondary injuries like pressure sores, scoliosis, muscle tightness, tendonitis, or thoracic kyphosis. In the next blog, we will talk about the checklist that KARMA uses to help every wheelchair user find the right wheelchair for them. You can check out the full range of KARMA wheelchairs on the KARMA website.
Follow us for updates !
Facebook: Karma Wheelchair Thailand
Line OA: @karmamedicalthai